Aura-Soma Archangeloi help to focus your intention, better recognise your accomplishments during times of change, and bring you closer to self-understanding. They support the greater potential of an individual, group or community and are the ideal addition to a holistic wellbeing lifestyle .
Similar to Aura-Soma Quintessence, the Archangeloi are paired with specific Equilibrium bottles, in this case, B95 through to B101 and B104. If you choose an Equilibrium bottle that is in that range, your Archangeloi is a direct correspondent. But they can also be chosen through the colour relationships of bottle selections.
The Meaning Behind Each Aura-Soma Archangeloi 
Archangeloi Michael - may help develop the qualities of faith and trust so we can release fears and anxieties

Archangeloi Gabriel - supports us to bring our potential and follow our path to destiny
Archangeloi Raphael - may help develop intuitive perceptions so we can awaken our inner voice

Archangeloi Uriel - fosters an experience of deep inner peace and clear intuitive perceptions

Archangeloi Sandalphon - may help to develop a profound capacity for compassion and potential for cooperation

Archangeloi Tzadkiel - find new understanding, experience and expression of love

Archangeloi Metatron - this Archangeloi contains the most intense light and the depths of the dark. May help us to perceive, understand and strengthen our abilities, talents and potential

Archangeloi Jophiel - experience a sense of peace, trust and calm Aura-Soma Archangeloi are the perfect way to top up your colour energies throughout the day

Archangeloi Chamael - Enhances our sense of caring in what we do. Helps toward breaking the barriers of preferential activity
How To Use Archangeloi To Discover Your Souls' Purpose
Best used before meditation, contemplation or prayer. Press one short spray over the left shoulder, one short spray above the crown and one over the right shoulder.
Where Can I Find Aura-Soma Archangeloi?
If you would like to try an Aura-Soma Archangeloi, why not request a consultation with your nearest practitioner? They'll be able to help you decide which one is right for you.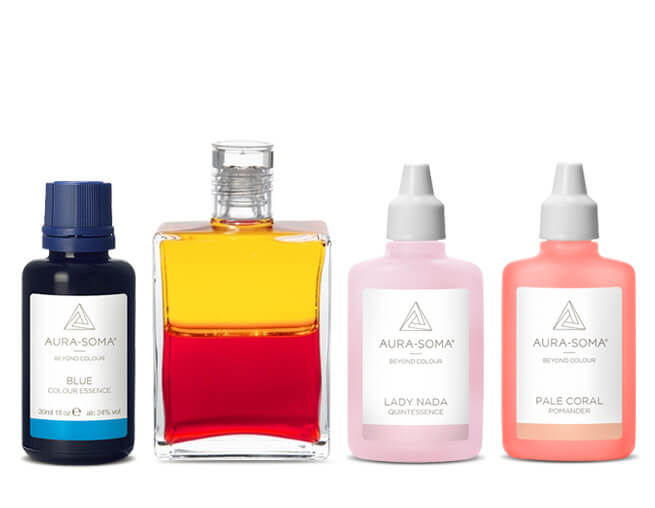 other products
What is possible and contained within the Aura-Soma products is the potential to empower you to be more of what and who you are. When you identify with this, you are able to access a very deep level of self-awareness. Explore our complete wellbeing collection and bring ease, balance and calm to your energetic system, while strengthening and protecting the aura.
Inspiring Stories
As a company we believe in supporting people to be the best versions of themselves. Our mission is to encourage greater cooperation among all beings in the care of each other and the Earth that sustains us. We have created a range of products that inspire all our fellow human beings on their path to happiness and vitality.
 Read More
Find a Practitioner
Meet one on one with an accredited Aura-Soma Practitioner for a private consultation; we have practitioners in more than 40 countries. Together you will review your chosen colours and explore their meanings in the context and depth of your own journey to discover which of our products are best suited to help build and maintain happiness and vitality in your every day.
Find out more